From kaleidoscopic cultures to dramatic landscapes and ultra-modern cities, Asia, the largest continent in the world, is one of the most enthralling and diverse places. Thanks to low travelling costs and expanding tourism infrastructure, Asia has been rapidly growing as a tourist destination, especially for people with families and children. If you are considering a vacation on the continent with your family, here is a quick list of the top places you should consider!
Singapore
With accommodation for people of all budgets, a highly efficient public transportation system, and a plethora of attractions and eateries, Singapore has long been a stepping stone for tourists looking to explore Asia. A bustling modern city-state, Singapore has a long history and is known for its rich culture and diversity.
Your biggest debacle will be deciding where to go first! Do you want to discover Singapore's vivid history at museums such as the Buddha Tooth Relic Temple and Museum, visit the iconic Merlion statue, or take your kids to the cloud park? Oh, and while you are at Cloud Park, you might want to check out the Supertrees at Gardens by the Bay; a sight that will draw gasps out of any child!
However, Singapore really proves its worth to families at Sentosa Island. Whether it is walking through the land of Far Far Away from Shrek at Universal Studios, gazing at rare artefacts at Butterfly Park and Insect Kingdom or posing next to Madame Tussauds famous wax figures for your Instagram feed, Sentosa Island is filled with unforgettable family-friendly experiences that bring the family closer.
Bali, Indonesia
Possibly the most famous of Indonesia's many picturesque islands, Bali is a tourist hotspot throughout the year and for good reasons.
Who can say no to that alluring culture, all-year-around sunshine and some of the most hospitable people you will ever meet!
The island's multitude of restaurants specialize in cuisines from across the world, ensuring there is something for everyone, even the choosiest eater. With surfing, kiteboarding, and kayaking on the cards, there is no shortage of activities and things to do. Alternatively, you can spend your days lounging by the yellow sanded beaches while the children splash about in the clear waters; simply put, Bali can be anything you want it to be!
If you are looking for somewhere away from the crowds, Nusa Dua towards the south of Bali is highly recommended. Less populated than the rest of the island, Nusa Dua holds its own treats that are well worth checking out. Take, for instance, the intricately carved Pura Geger temple. Located atop a seaside cliff, the temple offers a peek into ancient Balinese architecture while 10 minutes away, you will find the Museum Pasifika that holds carefully curated Asian Pacific artwork. The art pieces were collected from over twenty five countries and number in excess of 600.
Looking for something different? How about a pirate themed dinner cruise? Visit The Pirates Bay for exactly that! With great water parks, an array of spectacular natural sights including volcanoes – yes, you read that right, waterfalls, and lush forests that hide an array of wildlife, a visit to Bali with your family promises to be an experience like no other.
Sri Lanka
With gorgeous natural attractions and a vibrant culture that stretches back millennia, Sri Lanka is a beautiful country that is perfectly suited for families. The country has more national parks than you can count where herds of elephants frolic in the waterholes, leopards slink through the undergrowth looking for their next prey and crocodiles lounge lazily at the banks of rivers; all sights that are sure to leave kids spellbound.
Escape the vociferous capital by catching a train ride to the highlands – dubbed the world's most beautiful train ride – to discover the cultural capital of the country, Kandy. The last kingdom of the country, Kandy's Temple of the Tooth is an important cultural location as it holds the tooth relic of Lord Buddha. The temple annually holds the Esala Perahera; a colourful procession where elephants are dressed in the most eye-catching clothes while fire dancers perform mesmerizing tricks. Pinnawala Orphanage is another attraction that kids would love. Home to the largest herd of captive elephants, it is a nursery and breeding area for Asian wild elephants. The orphanage allows visitors to get up and close to elephants while also providing information on how they live.
If your family is into history, the ruins of Anuradhapura, one of the oldest cities in the tiny island nation, deserves a spot on your itinerary. The sprawling site holds ancient temples, palaces, and other monuments that allow a glimpse into a bygone era. While en route to Anuradhapura, don't forget to visit the Dambulla Cave Temple, a centuries old temple that was carved into the face of a massive rock.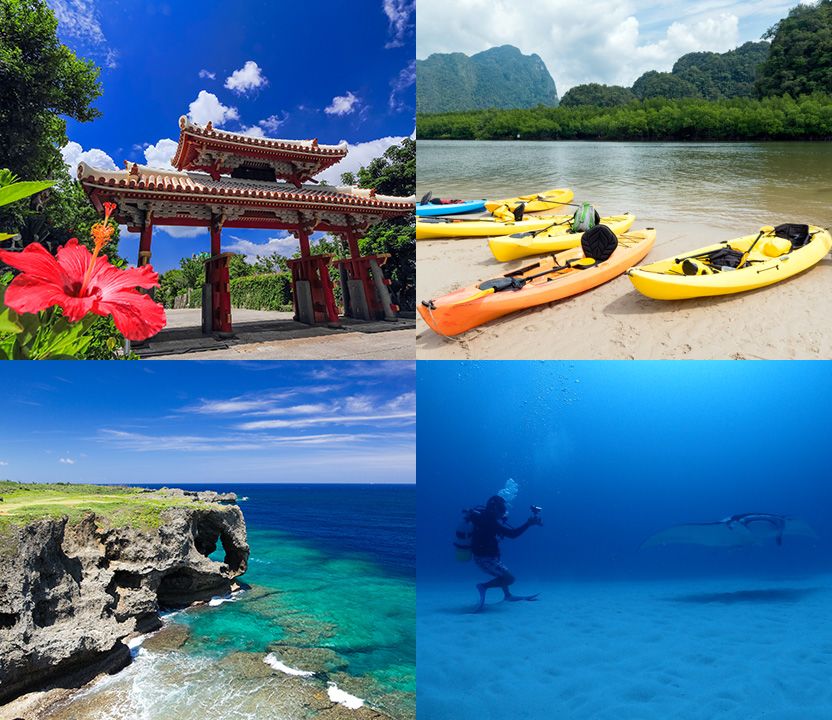 Japan
Colourful, ultra-modern, and always lively, Japan has long remained a wonderland for both children and adults. The energy and crowds might seem overwhelming, but Japan has an assortment of attractions and things to do that will enchant kids.
Family-friendly accommodation is easy to find thanks to the array of Western styled hotels and traditional Japanese hotels, locally known as ryokans, where you sleep on the floor and live your day in a Japanese manner.
Tokyo has plenty of theme parks for kids; whether it is the cute Hello Kitty theme park or Kidzania, the family edutainment centre amusement park or Hanayashiki, the oldest amusement park in Japan. Oh, and do not forget Disneyland, where your kids can explore Disney's universe and meet their favourite characters for an experience they will remember for ages. Once you have exhausted yourself at the variety of parks, take the day off to the visit Ueno Zoo which holds some of nature's most beautiful creations.
Don't get the wrong picture though, Tokyo isn't just about blind fun, it holds many educational experiences too. The National Museum of Nature and Science, Tokyo National Museum, Museum of Emerging Science as well as Sony's ExploraScience, provide an in-depth insight into Japan's technological strides and strength in the global industry.